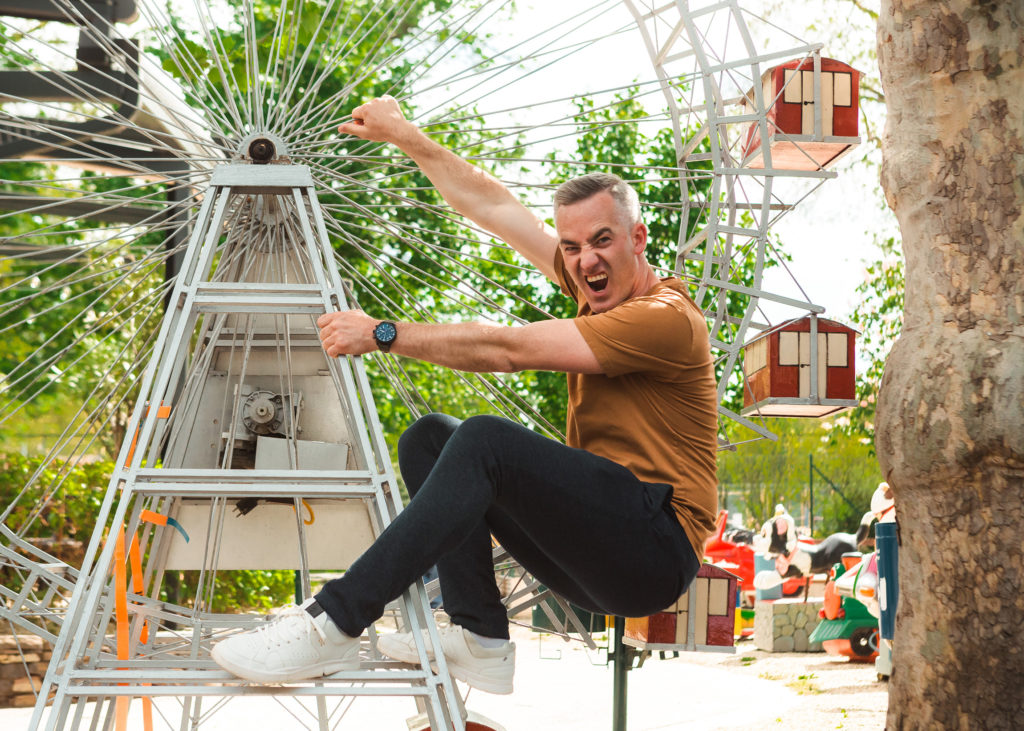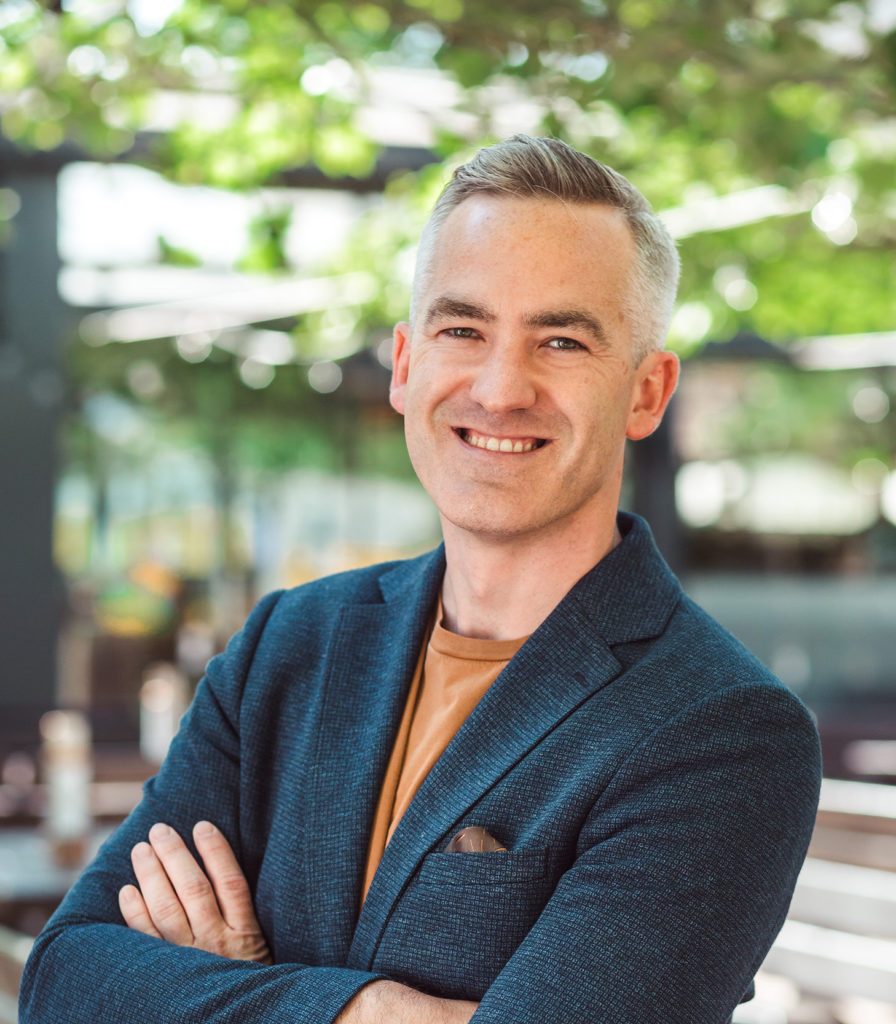 Interview
Praterchild through and through
Paul Kolarik runs the restaurant Luftburg – Kolarik in Prater which is the largest fully certified organic restaurant in the world. In the interview, Paul talks about his motivation, the love for his work, his childhood in the Wurstelprater, and what makes the Prater special to him.
Hey Paul, you are a real Praterchild – tell us a little bit about yourself.

Yes, I am a Praterchild through and through! Being born at home in my parents' bedroom, directly above what was then our living room, I was literally born into the business. I know the Wurstelprater and its surroundings like the back of my hand.
Even as a 7-year-old boy, I loved to spend my weekends in the Prater. For example, I was allowed to play video games at the Daytona Beach arcade, something very special for me, as we didn't have a games console at home. My mother's career and what she built up here fascinated me from an early age. Back then I already introduced myself to the suppliers as "Junior Chef". (laughs)
After my training in tourism and business administration, I joined the family business relatively quickly. In 2020, during the first lockdown, I took over the entire restaurant from my mother and have been an entrepreneur in the restaurant and carney industry ever since.
What does the Prater mean to you personally?
It's Home! The Prater is indeed my absolute centre of life. I work here, I live here. Many of my colleagues in the Prater have become friends. I also spend most of my free time in Leopoldstadt – I play paddle-tennis in the Grüner Prater and my wife and I go for walks or ride the bicycle with our children on the Prater Hauptallee. The Prater gives me everything I need for my life.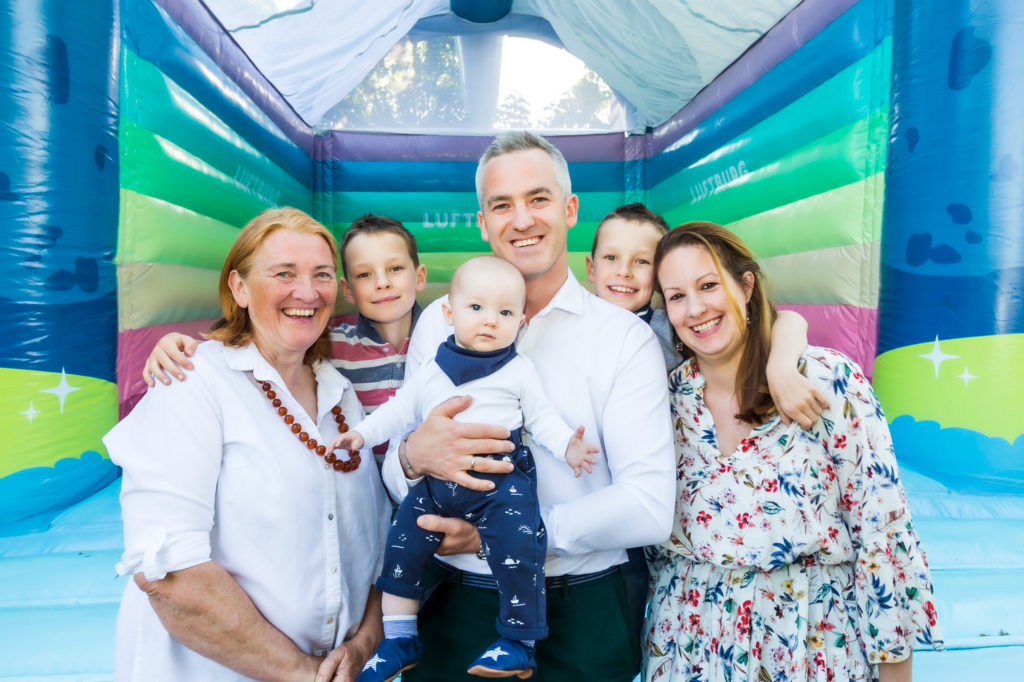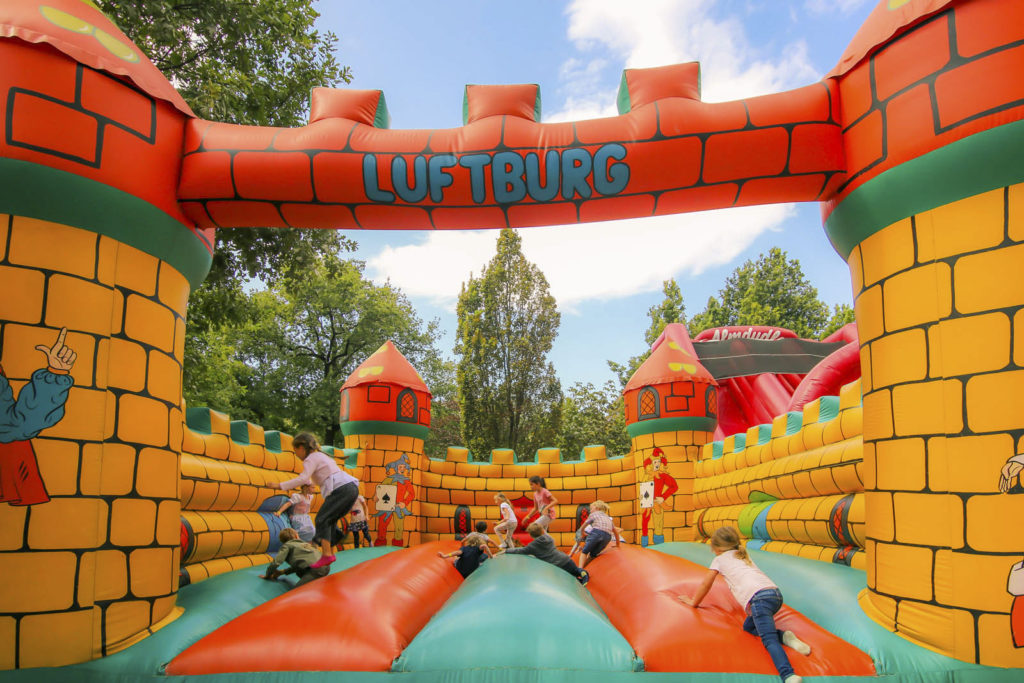 As a father of three – how do you manage both family and career?
My wife, Bianca, and I are very fortunate that we are able to combine our private lives with being self-employed as entrepreneurs in the Prater. Our children are also out and about in the Prater a lot, just like I used to be. They like to jump in our bouncy castles, let off steam in our Praterfee (a childrens paradise), or ride a wide variety of rides. Since we also live nearby – it's just a five-minute walk to our home – work and play can be easily combined. I think it's generally a privilege that the Prater entrepreneurs have, that family and work and working life are not separated here.
Your mother invented the Luftburg and founded the restaurant of the same name. How come?
The invention of the Luftburg came about because she wanted to have an inflatable mattress with side walls. She then sketched it out in the design of a castle and had it made at an English hot air balloon builder. What was delivered was a huge thing, because they got centimeters and inches mixed up. But as it turned out pretty amazing to have a castle to jump in, the first Luftburg (air castle) was born. This is probably how the name came about – a castle made of air.
She quickly realized that this air castle was a show-stopping hit, but at the time she did not have the money to patent it. What she did do, however, was to protect the name under trademark law, so only our bouncy castles can be called "Luftburg". The restaurant was named after it – because it was built next to the air castles.
In 2020 you took over the business. What is it like to be the boss? What do you enjoy most about your job?
I can sum it up very simply: It's awesome! For me, entrepreneurship is a hobby. I love making decisions here day after day. I love putting things into reality. At the end of the day, the economic success is the proof that the decisions are correct one way or another. But I also love the fact that I can be here in the Prater, in the nature but also in the city, dealing with many great people every day – that's an all-round package that suits me insanely well.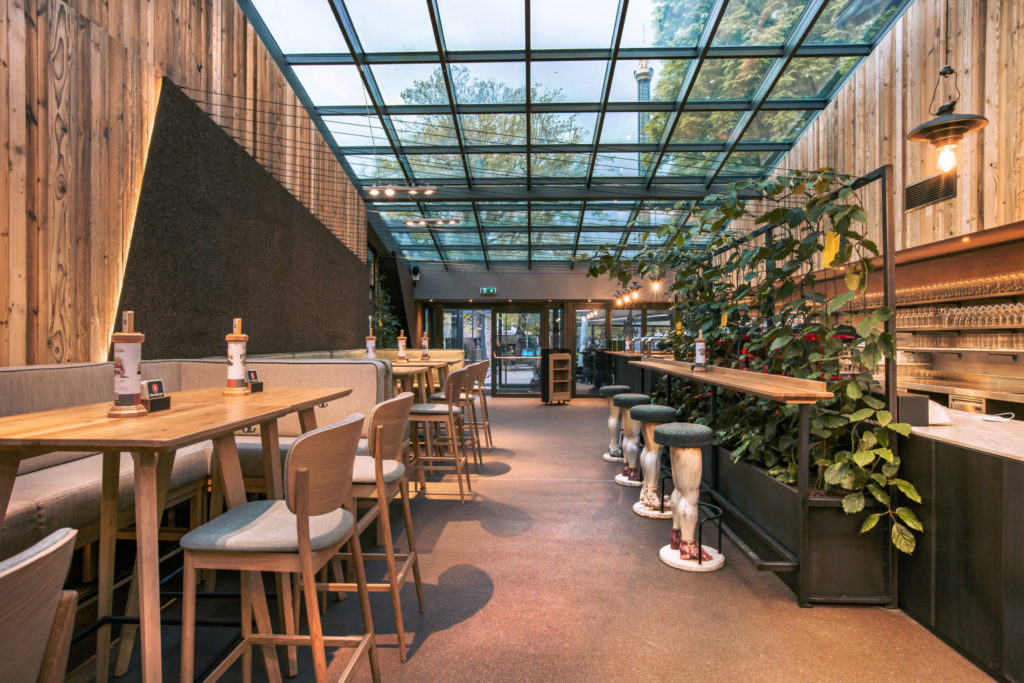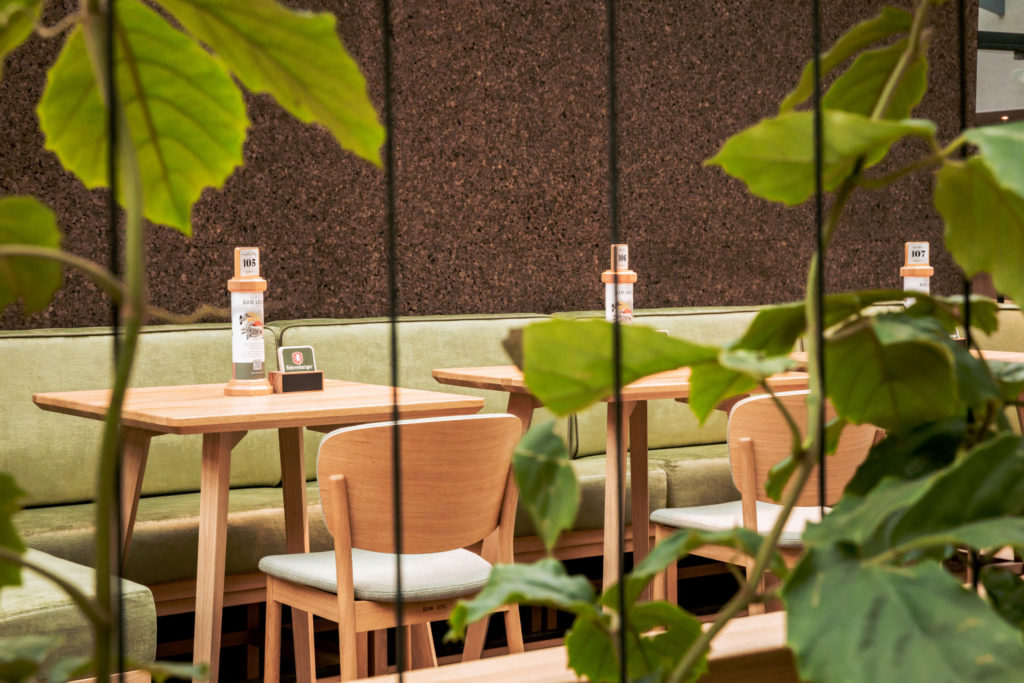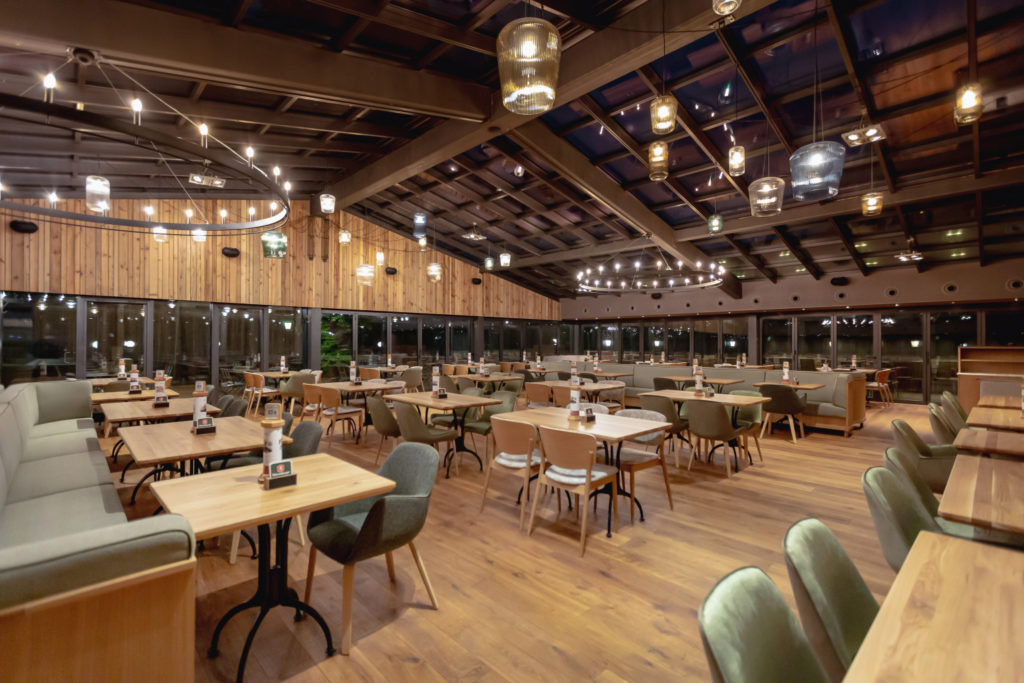 You renovated your restaurant last year. What is different in the Luftburg now?
Everything and nothing. We have kept our identity – the large open-air area and our focus on down-to-earth cuisine and good beer – but we have decided to follow this path as sustainably as possible. Already in 2018 we have started to increase our organic content a lot, and have taken that to the extreme in 2021 by converting our entire range to organic. This means that every food and drink we serve is 100% certified organic. And because we have a total of 1,200 seats, this makes us the largest fully certified organic restaurant in the world.
At the same time, we have also used the renovation to make the topic of sustainability tangible. That means we used a lot of wood, untreated steel, plants and textile furniture. We offer an overall concept in an atmosphere where people say "I feel good there, I get what I want. I get really good quality and I am also prepared to pay for this quality."
In 2019 you won the Bio Gastro Trophy, the Bio Ecolabel and the Environmental Award of the City of Vienna. Why is sustainability so important to you?
I am a father of three children. I want to do my best to create and maintain a planet worth living on. I think there is a lot of awareness that we have no alternative to our earth. That is why I would like to have an impact with the leverage I have as an entrepreneur. I would like to make my contribution sustainable and to work in a way that conserves resources.
What will be your next project?
At the moment we are building a new entrance portal with a sales kiosk and a shop. We would like to offer our guests articles they know from our menu for take away. Be it the beer that we have, the wine, the jams that we process, the syrup, but also some toys for when the children are a bit cranky. And our focus lies on sustainability here as well.
Another project that we launched last year is the the Praterbühne with Viktor Gernot and the Casanova Theatre (an open-air venue for live music and comedy). That is also a project that was insanely well received.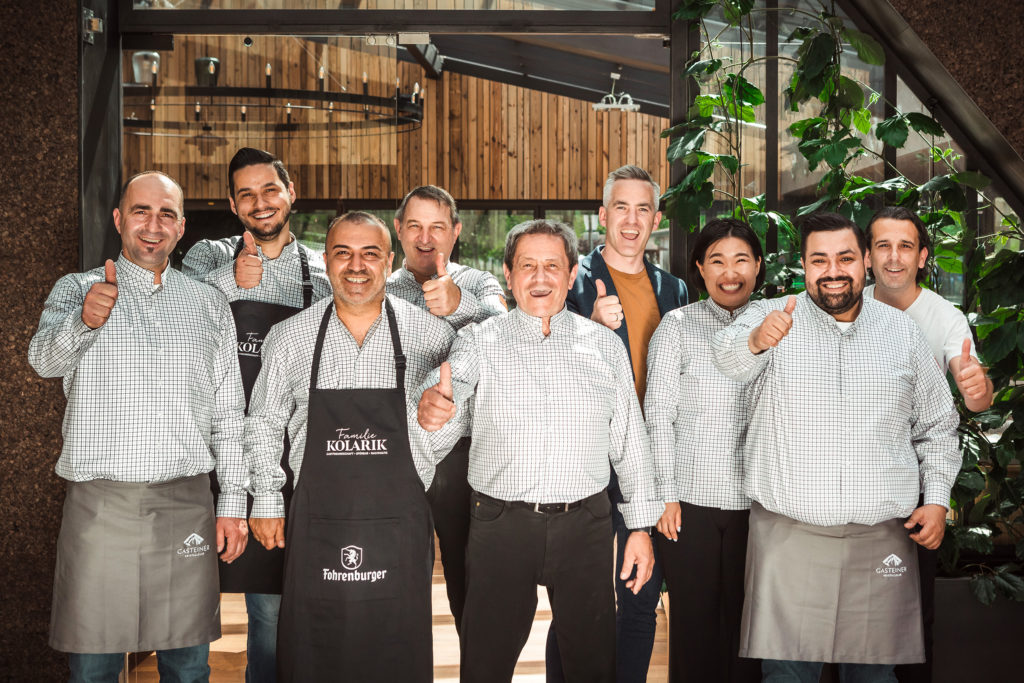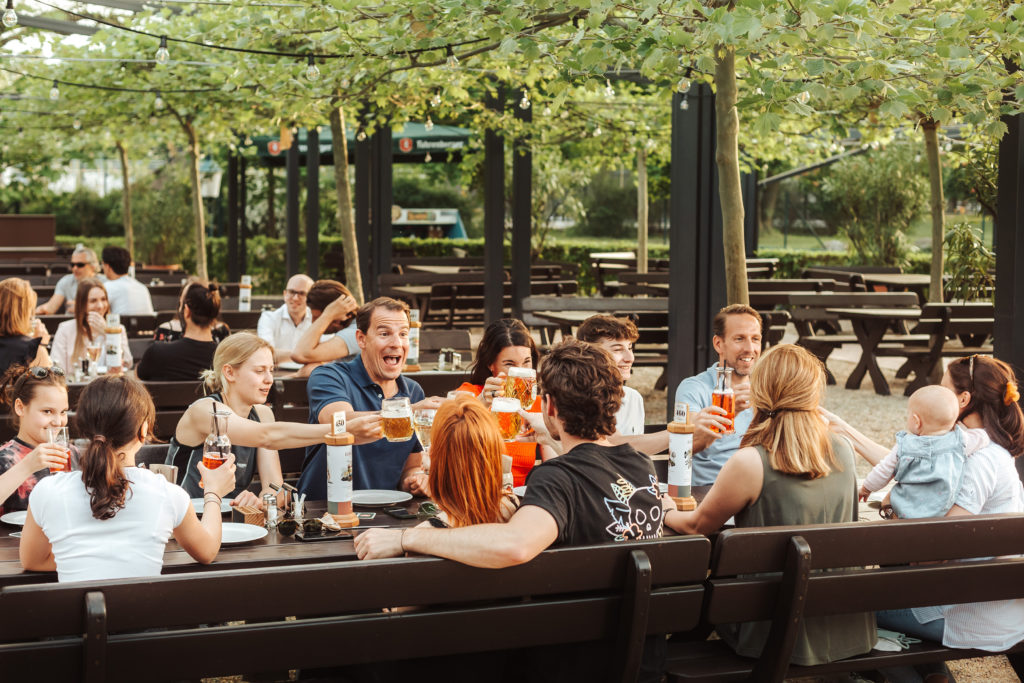 We've got a creative question for you: if you were a dish, which one would you be and why?
My personal favourite dish at our restaurant is the barbecue skewer, and I'm just wondering if I'm one of those. Yes, I think the barbecue skewer is a good description, it's nice and crispy on the outside, but juicy and soft on the inside. Maybe I sometimes seem very "crispy" and unapproachable – I was told that once and I was very surprised at the time. After all, one often sees oneself differently. But when you get to know me, you realize that I'm very down-to-earth, I don't need chichi. So my favourite dish really suits me.
How did the Wurstelprater change over the last few decades?
I think that the Prater has absolutely developed for the better. I remember when I was a child, the Wurstelprater was often perceived as something disreputable. Of course there was a certain environment that confirmed this, such as the street prostitutes of the time. But I think that the Prater has gained a lot of momentum and that the response is extremely positive. You can feel through and through that a young generation is at the helm. Be it with a young president, Stefan Sittler-Koidl, but also the individual entrepreneurs. There are so many people who make things happen, and I really love that.
If you could change one thing about the Prater, what would it be and why?
The zoning regulations! I would give a lot for a zoning plan that would give entrepreneurs in the Prater more freedom to plan and implement new ideas.
One last question: what are your favourite rides in the Prater?
My absolute favourite used to be the Taiga Jet, a round ride that unfortunately no longer exists. You sat in a gondola that went round in an ellipse. At the moment my favourite one is the free fall tower – I love the view up there and the thrill of falling. And Autodrom is always fun! But with my children, I'm also drawn to bouncy castles or the trampolines.
About the person:
Paul Kolarik has been the owner of Kolariks Freizeitbetriebe GmbH since 2020. The businesses include the Luftburg including Erlebniswelt, the Praterfee, the appartment house Urban Lodge, Viktor Gernots Praterbühne and the production, sale and rental of the original air castles. You can find further information at kolarik.at
Photocredits: Kolariks Freizeitbetriebe GmbH, Philipp Lipiarski