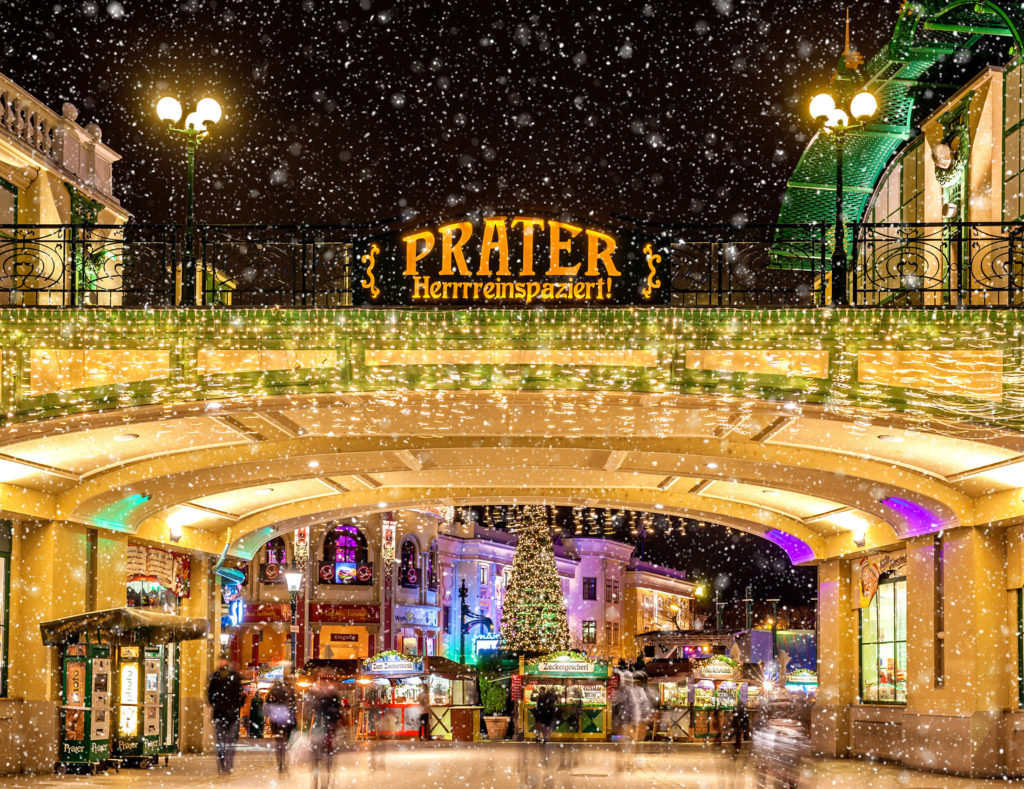 Events
Prater Winter Market
***
Wintermarkt is open on Sat, 20th + Sun, 21st of November.
Starting on Nov 22nd, there is an Austrian-wide lockdown until Dec 12th – Christmas markets must also remain closed during this time. Wintermarkt is expected to reopen on Dec 13th.
*** 
Wintermarkt (which translates to winter market) is taking place again this year at Riesenradplatz! Starting on Sat, November 20th, Wintermarkt offers you the typical Viennese Christmas market atmosphere and gives you an opportunity to leave your crazy everyday life behind (at least for a few hours). There are of course all the classics – from (children's) punch, mulled wine, chocolate fruits, baked potatoes, Spätzle and Co. to the Wintermarkt mug with a new motif.
In addition, Wintermarkt provides you with wonderful live music from Wednesday to Sunday at 7:00 p.m. Artists and bands from pop, rock, blues, soul, and gospel perform live at the Winter Market stage. And – for all fans – the Vienna Philharmonic New Year's Concert will be broadcast live on January 1st at 11:00 a.m.! And of course, we've got the detailed program for you.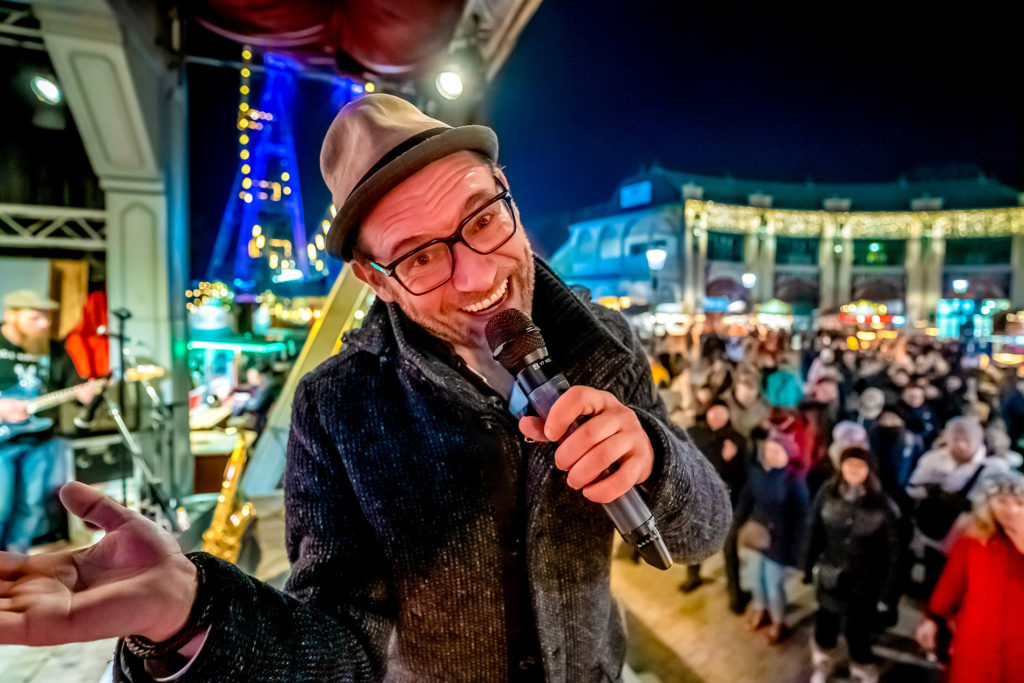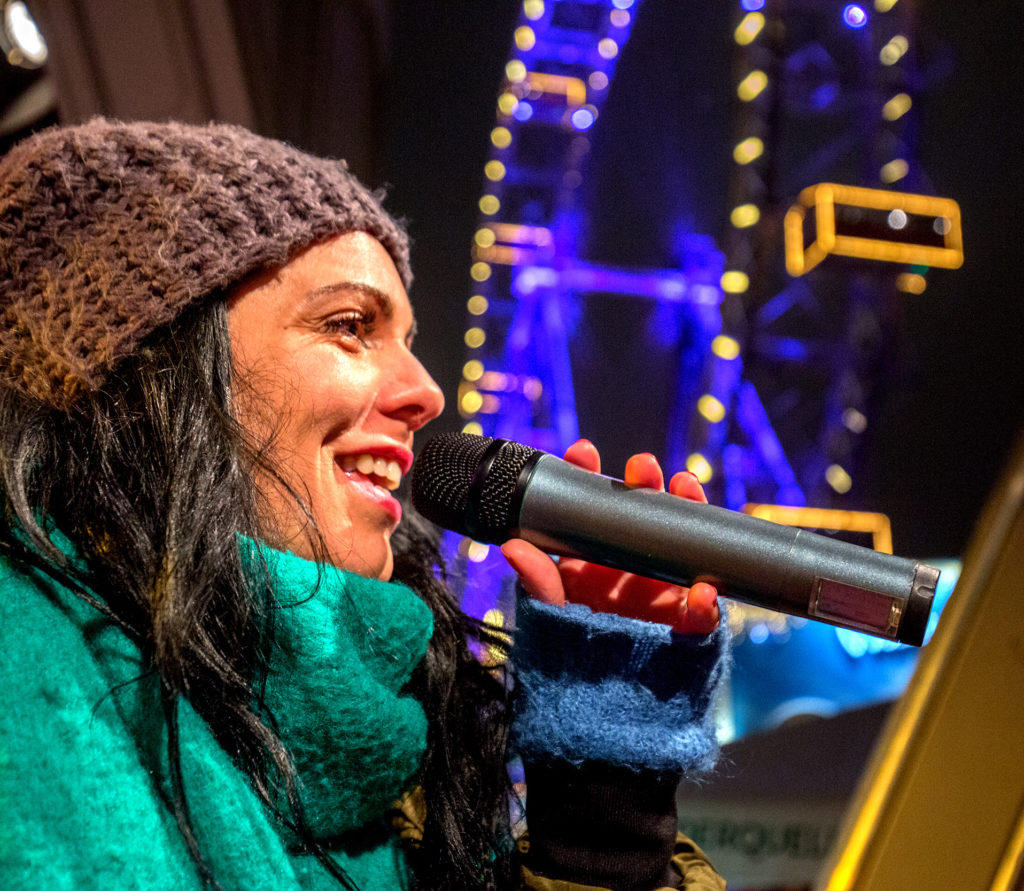 Musical Program
The Wintermarkt stage will be moderated by Max Shelly. Unless otherwise noted, the live performances always start at 7:oo p.m (or 19:00).
Sat, 20. Nov. ★ Sam Brisbe & Steam
Sun, 21. Nov. ★ VBC Vienna Blues Company
Wed, 24. Nov. ★ Harry Ahamer & Markus Marageter
Thu, 25. Nov. ★ Melvee
Fri, 26. Nov. ★ The Jokers
Sat, 27. Nov. ★ MO & Band
Sun, 28. Nov. ★ ST3
Wed, 1. Dec. ★ Iris Camaa & Friends
Thu, 2. Dec. ★ Philipp Griessler
Fri, 3. Dec. ★ Leelah Sky
Sat, 4. Dec. ★ Dr. SüdBahn & die SymPartie
Sun, 5. Dec. ★ Niddl & Thommy Pilat
Wed, 8. Dec. ★ Rusty Strings Trio
Thu, 9. Dec. ★ Patricia Hill
Fri, 10. Dec. ★  Mira & Adam
Sat, 11. Dec. ★ Johnny Favourit
Sun, 12. Dec. ★ Ronja*
Wed 15. Dec. ★ Aminata & The Astronauts
Thu, 16. Dec. ★ Michael Klammer & Band feat. Ulli Bäer
Fri, 17. Dec. ★ Groovebusters
Sat, 18. Dec. ★ Favorhythm Gospel Singers
Sun, 19. Dec. ★ Rabitsch & Pawlik Christmas Duo
Wed, 22. Dec. ★ Gospel & More
Thu, 23. Dec. ★ Valentin Oman & Julie Leonheart
Fri, 24. Dec. 14:00 ★ Paola Zoto & Dominik Landolt
Sat, 25. Dec. ★ Dolls & Guy
Sun, 26. Dec. ★ The City Slickers
Wed, 29. Dec. ★ Motown Motion
Thu, 3o. Dec. ★ Die Wödmasta
Fri, 31. Dec. ★ Sam Brisbe & Steam
Sat, 1. Jan. 11:00 ★ broadcasting of the Philharmonic New Year's Concert
Sat, 1. Jan. ★ Miriam Luna Trio
Sun, 2. Jan. ★ Ramon
Wed, 5. Jan. ★ Mini & Claus
Thu, 6. Jan. ★ Mr & Mrs Curtis
Fri, 7. Jan. ★ FreeMenSingers
Sat, 8. Jan. ★ Michael Klammer & Band
Sun, 9. Jan. ★ Max Shelly & Band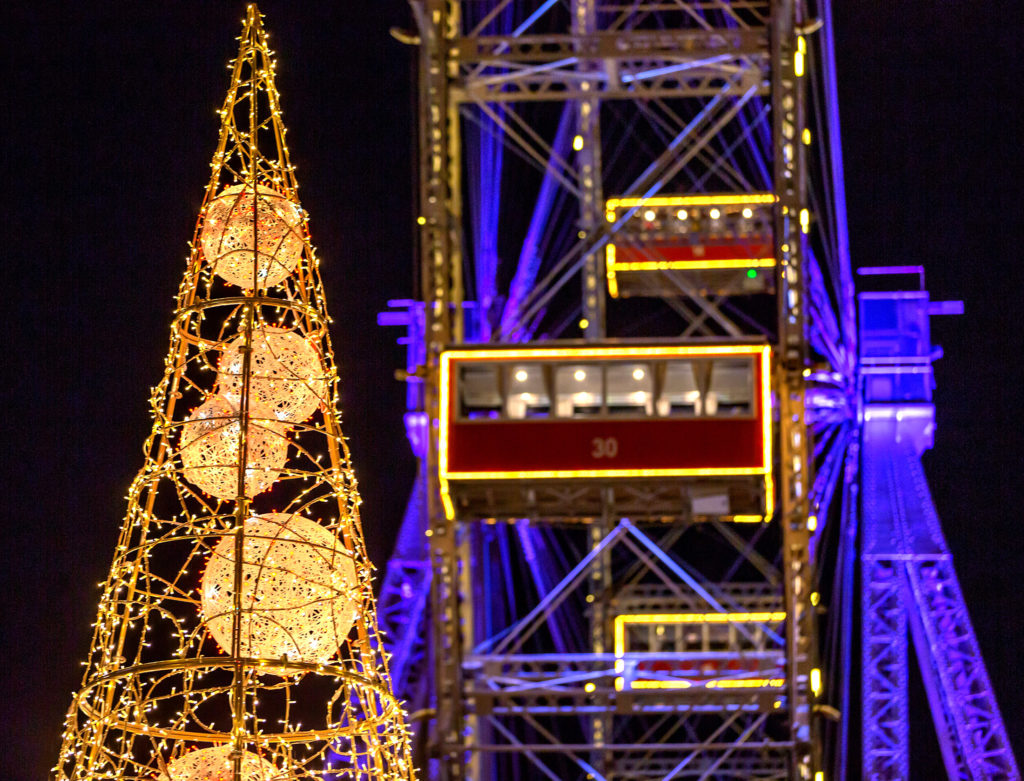 Opening Hours, Entrances and COVID Safety Measures
Wintermarkt starts at Sat, November 20th 2021 and is generally open until Sun, January 9th 2022. Due to the Austrian-wide lockdown, however, it will be closed from November 22nd to December 13th.
★ Opening Hours ★
Mon-Fri: 12:00-22:00
Sat, Sun, holidays: 11:00-22:00
Dec 24th: 11:00-17:00
Dec 31st: 12:00 -22:00
★ Entrances to Wintermarkt ★
Wintermarkt is located directly at Riesenradplatz.
There are two entrances to the Wintermarkt:
One is at the Prater gate – for everyone coming from Praterstern. The other entrance is on the opposite side, on Straße des 1. Mai – for everyone coming from the direction of Messe Wien. There are COVID access controls at both entrances. Wintermarkt is not accessible from the south (Antifaschismusplatz / Eduard-Lang-Weg).
For all visitors who want to go to the Wurstelprater or the Prater DOME, there is a small detour around the Wintermarkt.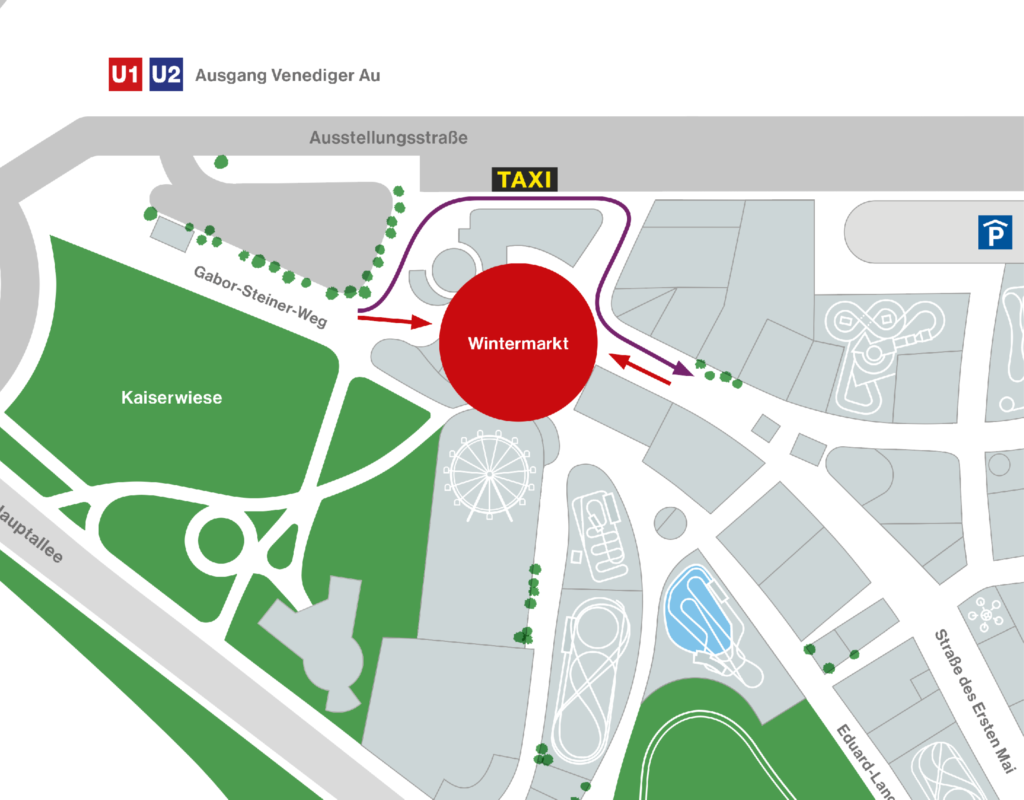 ★ COVID Safety Measures ★
In accordance with the current COVID rules, the 2-G-Rule for adults applies to the Wintermarkt. The 2,5-G-Rule applies to teenagers aged 12-15, and the 3-G-Rule applies to children between 6-12 years of age. Controls take place at the two entrances to Wintermarkt – please have your documents/certificate ready. In addition, all visitors are asked to register at the stands in order to facilitate contact tracing.
Right in front of the Wintermarkt stage, the 2-G+ Rule applies. This means that only people who can show a negative PCR result in addition to their proof of vaccination or recovery can enter this area.
In case you are not familiar with our jungle of COVID rules, we have tried to explain them and clearly list all terms and rules here.
We wish you lots of fun!
Tag us on Instagram and share your Wintermarkt moments with us: @prater.at #praterat
Photocredits: Julius Silver