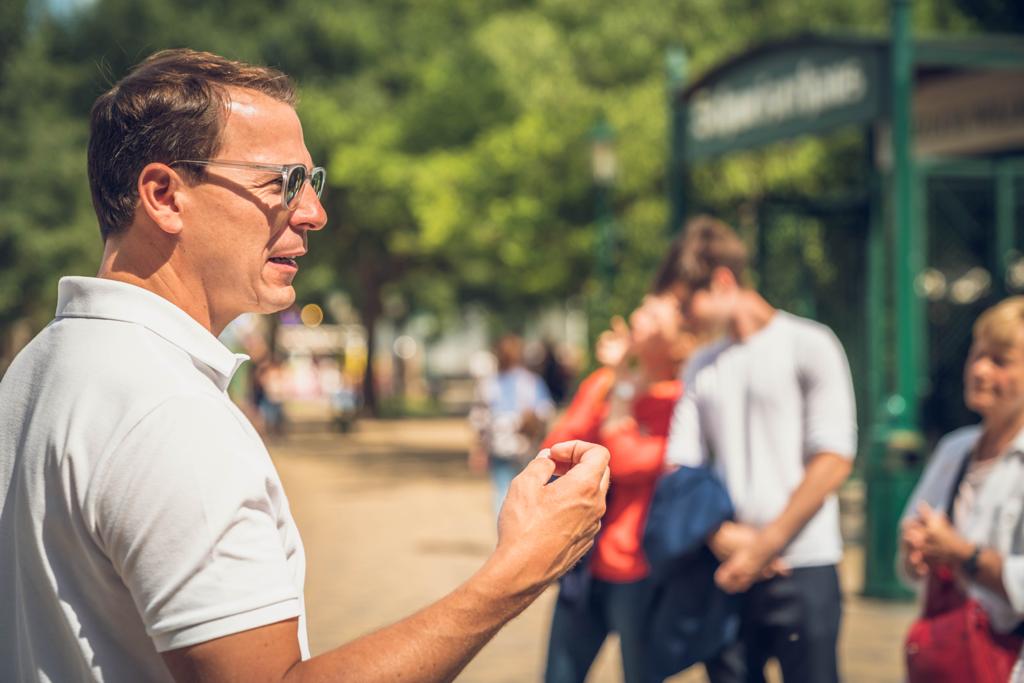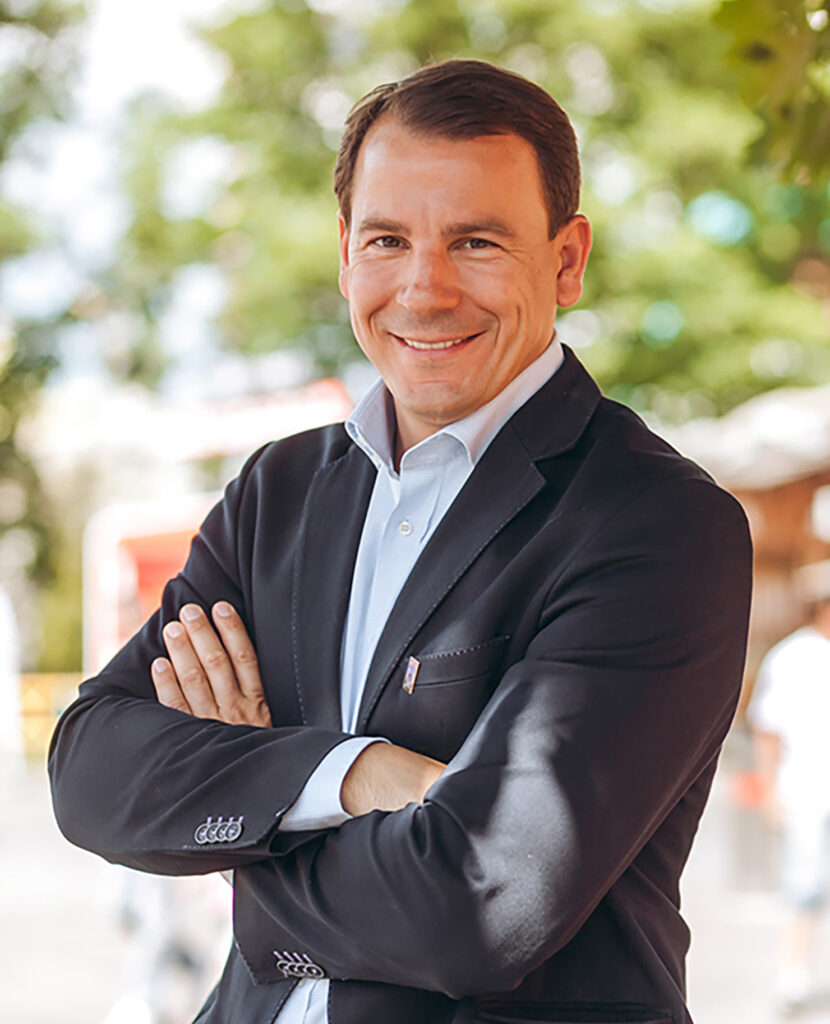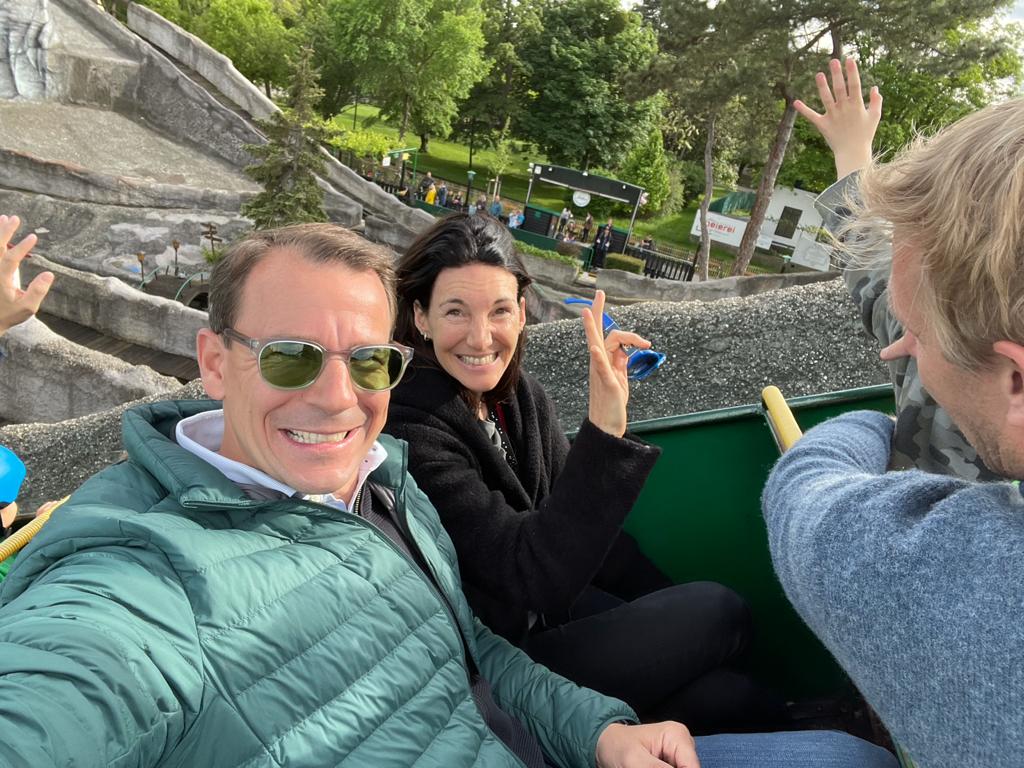 Interview
Prater at the Heart
Born into a Prater family, the current Prater Association President followed in his parents' footsteps at the age of 20. In this interview, Stefan Sittler-Koidl gives us an insight into his life.
Hello Stefan! Who are you? What do you do? Tell us a bit about yourself.
I come from an old Prater family that has been in Prater since 1921. It all started with my great-grandfather and this summer we celebrate our 100th anniversary. Together with my four children and my wonderful wife Karin, I live in the middle of Wurstelprater.
Together with my wife, I operate a total of thirteen businesses in  Prater under the name Koidl-Vergnügungsbetriebe – twelve rides and a small restaurant. These include the Insider, an indoor roller coaster, the Volare, a roller coaster where you lie on your stomach, the beautiful Flower Wheel, the interactive Snowrider called Iceberg, and the cult evergreen Breakdance carousel. Furthermore, we operate the Jumper, the Airmax and the Free Fall Tower, where you are dropped from a height of 80m. Then we also have a ghost train, a children's autodrome, a children's carousel, a glass maze and finally a bar that serves only organic food and drinks.
Which of your rides is especially close to your heart?
My great passion is developing and building new rides, which is why the last project we developed is my current favorite. But I also really enjoy the Airmax, and that's despite the fact that, from a technical point of view, it was a dud in the beginning. When we took it over in 2019 and set it up in  Wurstelprater, the ride was so unpleasant that it didn't work at all. I then rebuilt it on my own with the help of my technicians. We were able to improve the ride feeling immensely and it gives me insane pleasure when I see passengers ride it several times now.
Do you already have your next project in mind?
Yes, the Vienna loop. My father-in-law had the idea 40 years ago to develop and expand the area in front of our ghost train – I would like to realize that.
If you were an amusement ride yourself, which one would you be?
Good question, that's very exciting. I'm not a fanatical carousel rider myself, so I definitely wouldn't be a merry-go-round. I think i would be something slow, like a grotto ride or a theme ride. I like those and I'm just as diverse – sometimes I'm tired, sometimes I'm fully motivated, sometimes I'm in love and sometimes I'm scared. Yes, I would be a theme ride – a nice one – but without water.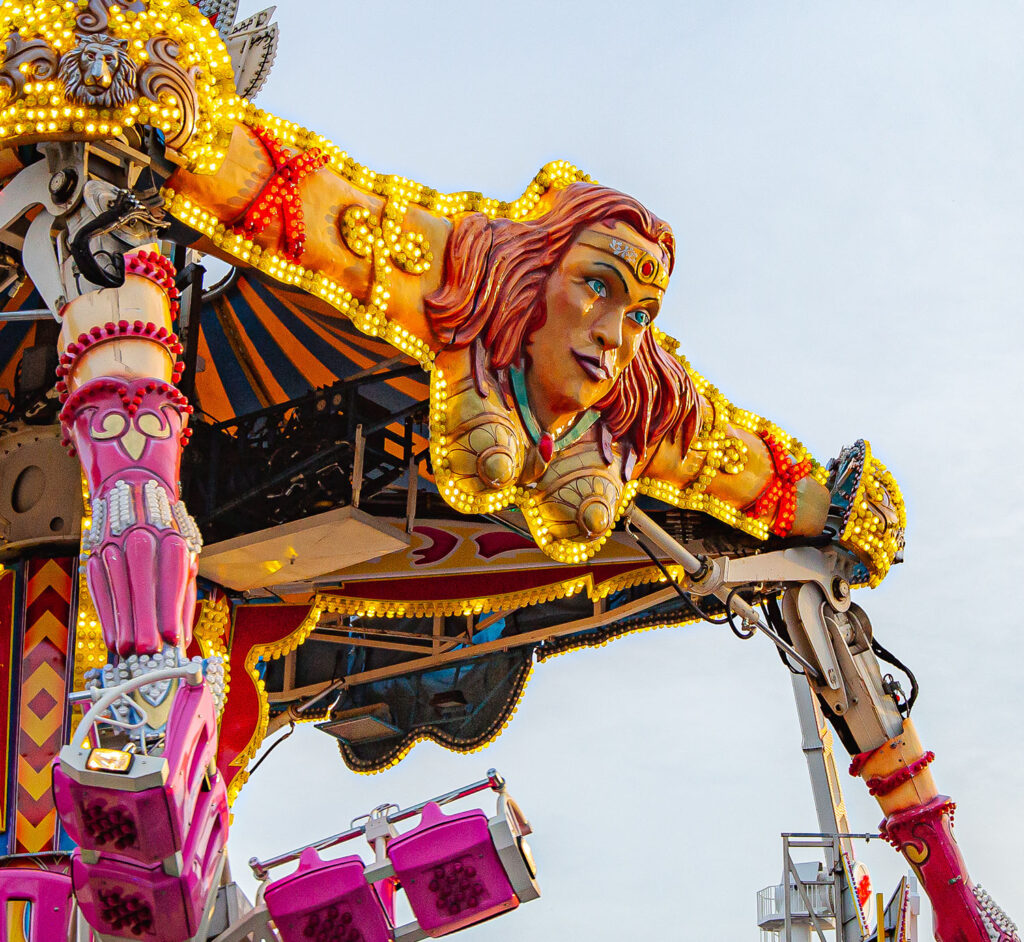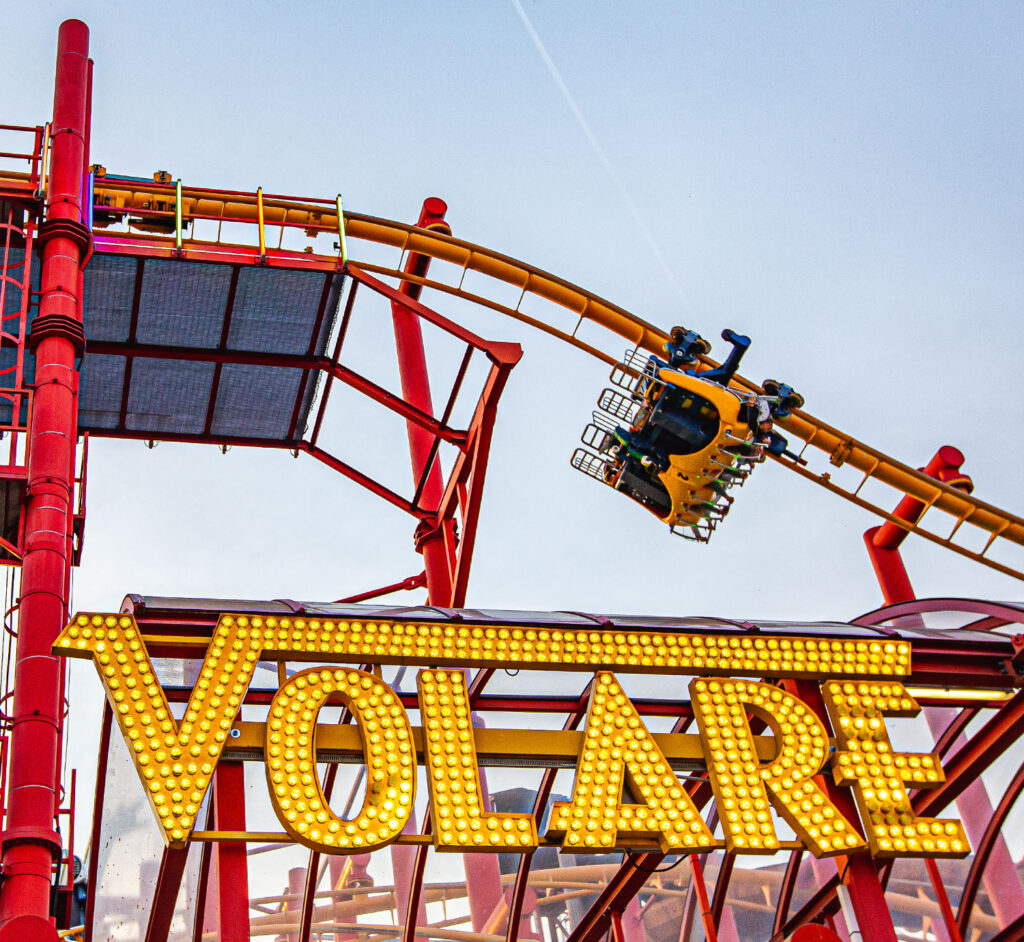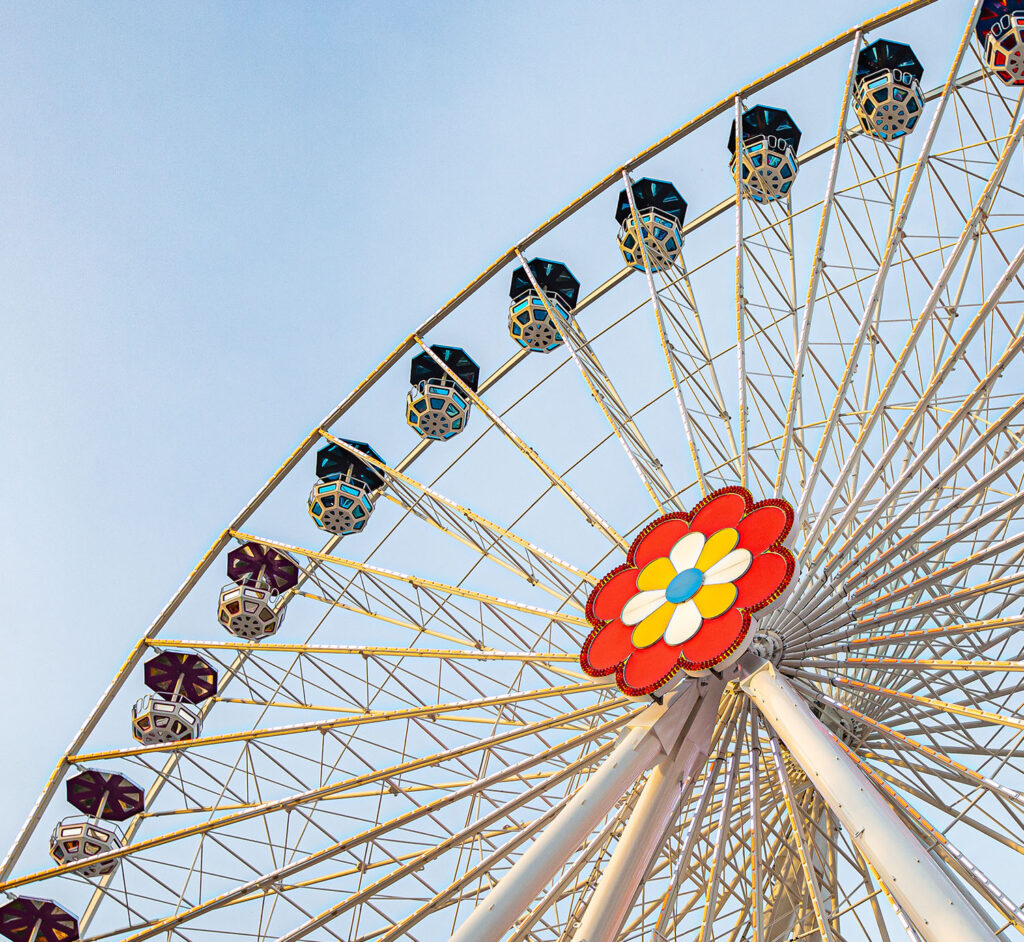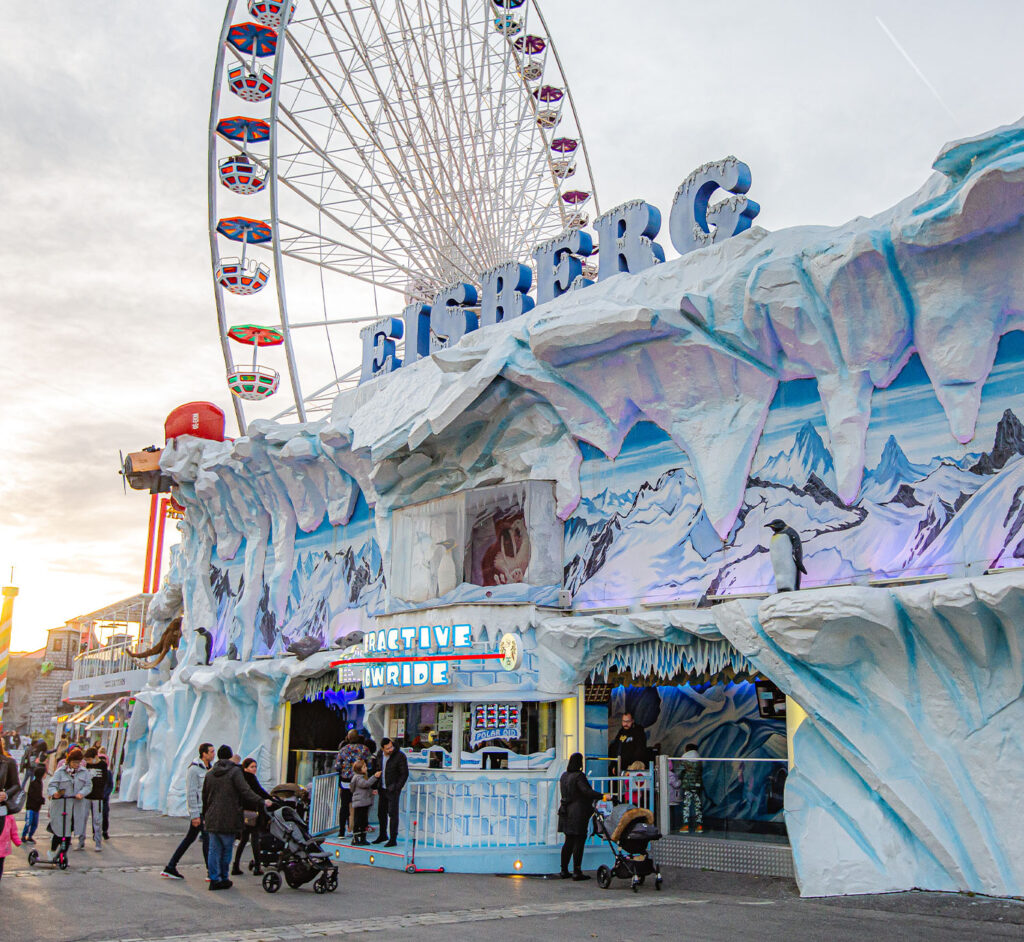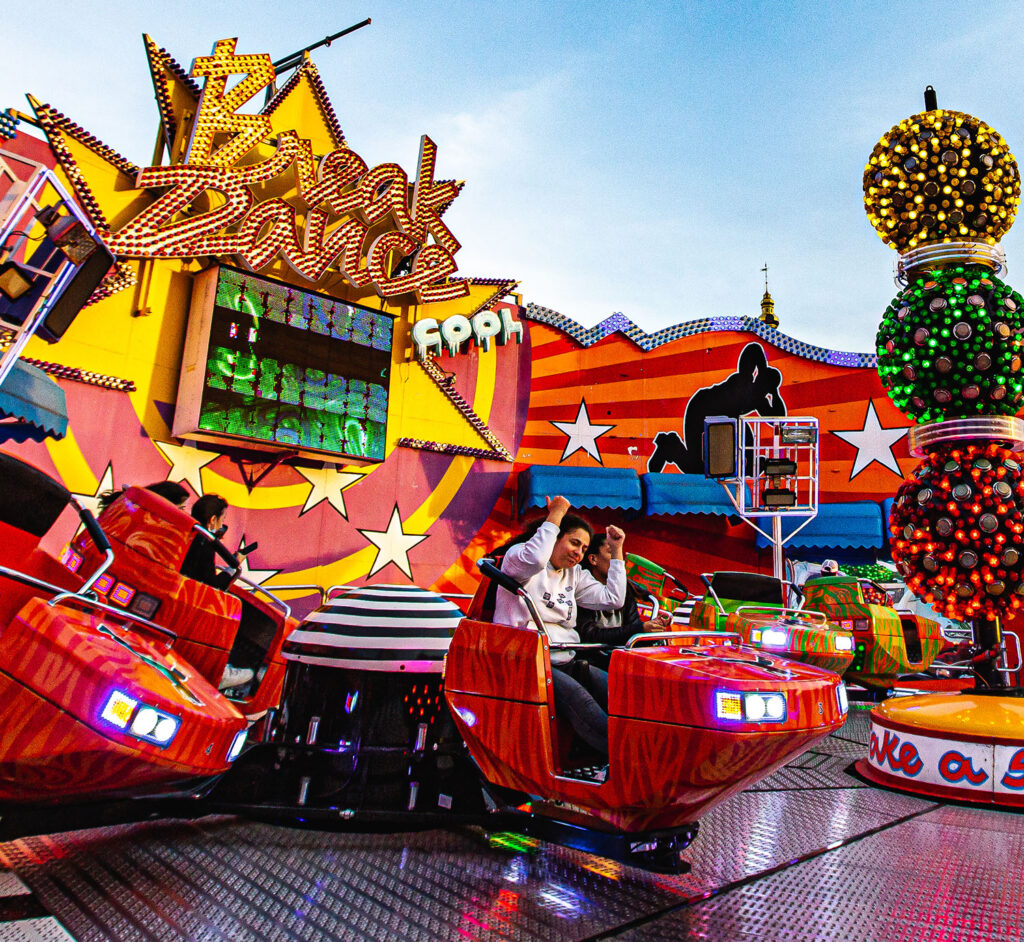 What significance does the Wurstelprater have for you?
Actually, I didn't really identify with Prater until I was 20 years old. I couldn't imagine spending my life in Prater the way my parents did; instead, I planned to become a policeman.
Today, however, I like the village character of the Wurstelprater in the middle of the city. Every day I have to deal with people who have known me since I was born – that has its own dynamic. Of course, it's often a challenge, but it's also nice when I walk out the front door and see my parents, for example. I just love that. Today, Prater means everything to me. It gives me identity and it is my home. It is my family. As the legendary Prater president Eduard Lang once said, "…it means more to me than my family."
Do you consider the job of a carny to be an art or a science?
Both. It's a science because as a carny or Prater entrepreneur you have to cover everything from business trustee to mechanic to street sweeper – it's not called "selbst und ständig" for nothing (Explanation: in Austrian, "self-employed" is called "selbstständig" which consists of the two words "selbst" = "self" and "ständig" = "constant"). And it's an art, because you're also a DJ, a radio announcer and sometimes a psychotherapist, too, when you talk to the open-minded. That's the beauty of it – you can develop on all levels in this job.
What are your tasks as President of the Prater Association?
Carrying the Wurstelprater in your heart in everything you do. You have a lot of meetings, discussions and meetings with cooperation partners. So you can't be shy. It's very much about doing, being, and networking.
Why did you want to become Prater Association President?
We had the recurring theme that for many operators the visitor frequency was not sufficient to be able to employ all employees continuously. If there is only one employee, then she watches TV at the box office, eats a cheeseburger or smokes a cigarette and somehow lets the day end at 00:30. That's not efficient, but it's only about one person. But when you're talking about 10 employees, that's a different story. My wife and I had discussions almost every day about how to handle it.
Then I thought to myself that we simply have to see how we can increase the frequency in  Wurstelprater. In 2014, with good ideas, courage, and financial motivation – and, admittedly, dream weather – we succeeded. In the meantime, many companies have dared to hand over the reins to the younger generations – and I think together we are coping quite well!
What do you like most about your job?
The kindness with which you are received. I'm not a representative of a company or a corporation, I'm not a politician or a representative of the Chamber of Commerce, but I represent the Prater, and that stands for pleasure and fun. Everyone I meet has their own Prater story, which makes it possible to connect. And even if someone doesn't have one, there's usually a story behind it.
What pleases me most is that I don't represent some rigid content like some dull salesman or saleswoman – but I represent fun. I work on behalf of pleasure.
If you could change one thing in the Wurstelprater, what would it be?
I would put the large action area, which is always used for different rides, to a sensible, longer-term use that would bring even more to the Prater. I have various projects in mind – a film festival, for example. In any case, something that will take place there for a few years.
Where do you see yourself in 10 years?
On the newly named access road in front of our ghost train. And maybe – hopefully – together with my children in the company. I'm already eagerly waiting for that. Our eldest is now 19 and maybe she will end up with the same attitude as me and she decides to stay. She'll sit in the cashier's office for five or six years. And then she will become the boss. And when the time comes, I'll move to Ibiza (laughs).
What is your motto in life?
"We never get what we want, we get what we ask for." So, you don't get what you want – you get what you ask for. If you wait for someone to come up to you, it takes forever. You should go ahead and say, "I want this or that."
What would you recommend to visitors who are in Wurstelprater for the first time?
You should take plenty of time because there is so much to discover. From the Ferris Wheel to the Lilliputbahn and all the rides to the excellent gastronomy. And of course the beautiful main avenue. If you spend a whole day there – from morning until night – you will be able to see most attractions and you can finish off the day in a bar or in a so-called Schanigarten. And maybe dance, live and love until six in the morning the next day.
About the person:
Stefan Sittler-Koidl was born in Vienna on February 5, 1980. Together with his wife Karin Koidl, he now manages the Koidl amusement businesses with twelve rides and an organic bar. Stefan has been president of the Vienna Prater Association since 2014.