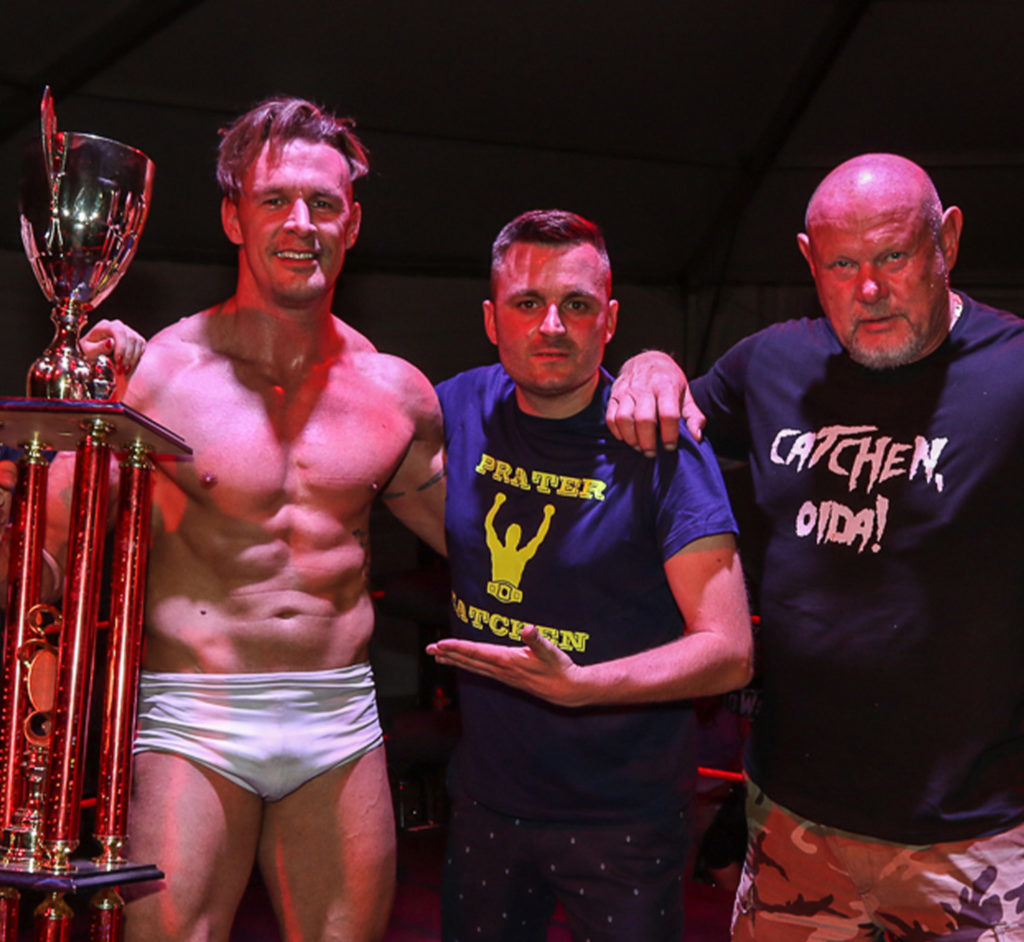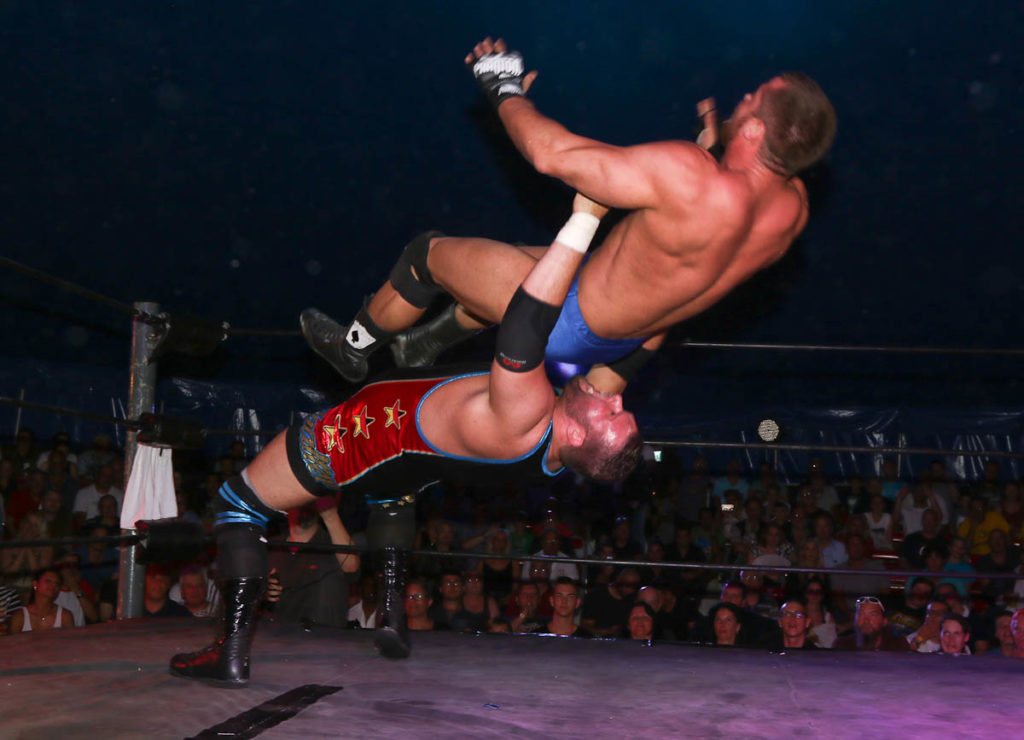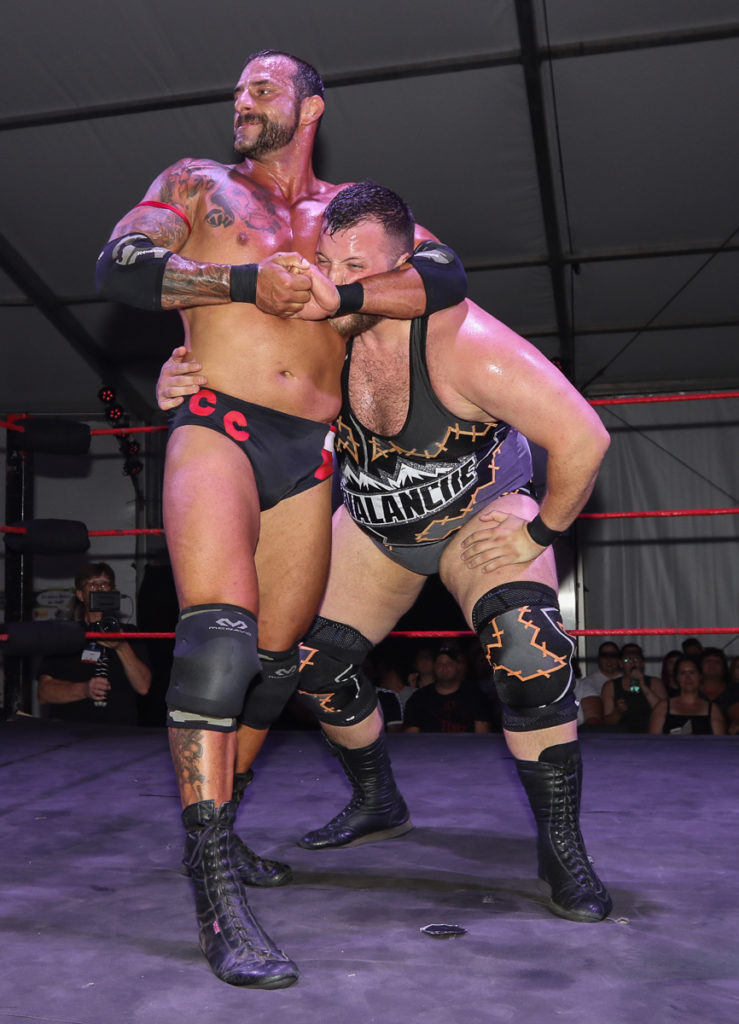 Interview
Action, Emotion, Passion
Marcus Vetter brings wrestling back to the Wurstelprater! On the 25th of September, superstars like Michael Kovac, Peter White, Bambikiller and Tiny Iron will meet at the 4th Pratercatchen. In an interview, organizer and Pratercatchen founder Marcus Vetter talks about the origins of wrestling, his passion for martial arts and why Pratercatchen cannot be missed.
Hi Marcus, can you tell us a bit about yourself? How did you get into wrestling?
Wrestling has been a passion of mine since childhood. Late at night, when I wasn't allowed to watch TV anymore, I used to watch wrestling secretly in my bedroom. I preferred wrestling to maths and physics throughout my school years, and I only talked about wrestling with my schoolmates. After my divorce, a friend asked me why I didn't turn my passion into a profession – so I contacted Michael Kovac, who is a wrestler and also does wrestling events. And that's how it all started.
How exactly did Pratercatchen develop in Austria?
There were already wrestling events in the Wurstelprater at the end of the 19th century. The tournaments even went on for six weeks. At the end of the 1990s, there was a glorious time at Heumarkt, with famous wrestler Otto Wanz. After that, there were always smaller events in Austria. I invited the president of the Prater Association, Stefan Sittler-Koidl, to one of these wrestling events. He liked the event so much that he said he would support me completely in reviving wrestling in the Wurstelprater.
Have you ever wrestled yourself? What does wrestling mean to you?
I once went to Michael Kovac for a trial lesson, but then I left it at that. For me, wrestling is like real life – there are ups and downs. For many, wrestling is like switching off, they just let it sink in. For many, it's joy and hope.
How would you describe wrestling? Is it martial art or show?
Wrestling definitely has a culture in Austria. Wrestling is sport, emotion and passion. The wrestler wants to involve the audience because that spurs him on – many then mistake that as pure show. But the wrestler is more concerned with the sporting aspect.
Why does Pratercatchen take place in the Wurstelprater?
The origins of wrestling lie in the Wurstelprater. That's why it was clear to us – we have to return home with Pratercatchen. You have the tent, just like in the old days. You have the catchers. And you have the place as you once did, the Wurstelprater.
What makes the Wurstelprater special in your opinion?
Everything. You can always go to the Wurstelprater – when you're happy, when you're newly in love. Even if you're sad, you can cheer yourself up here. You can experience everything in the Wurstelprater – you don't even need money, because you can just let everything sink in. The Wurstelprater is pleasure and joie de vivre.
Which is your favourite Wurstelprater ride?
I particularly like the Tagada – of course (grins).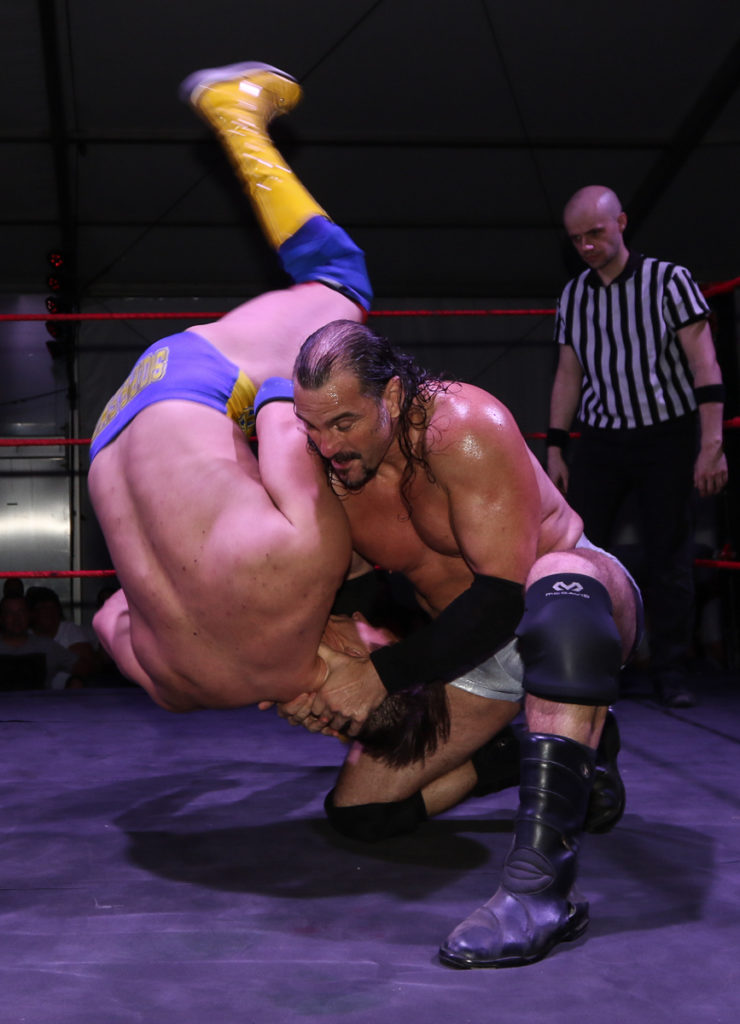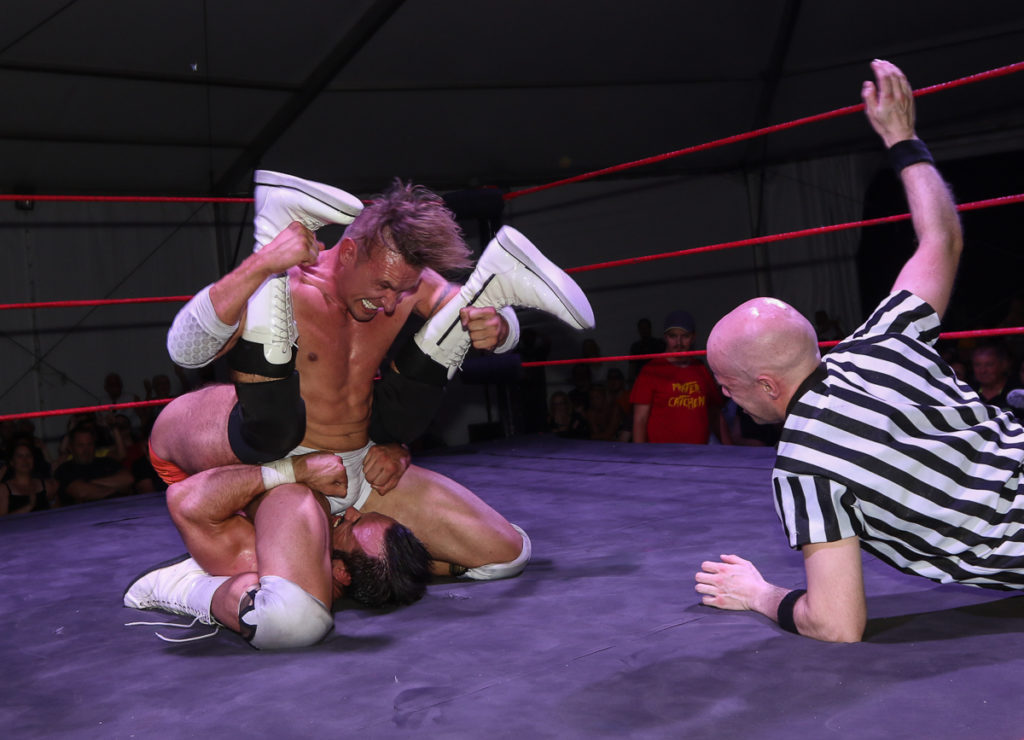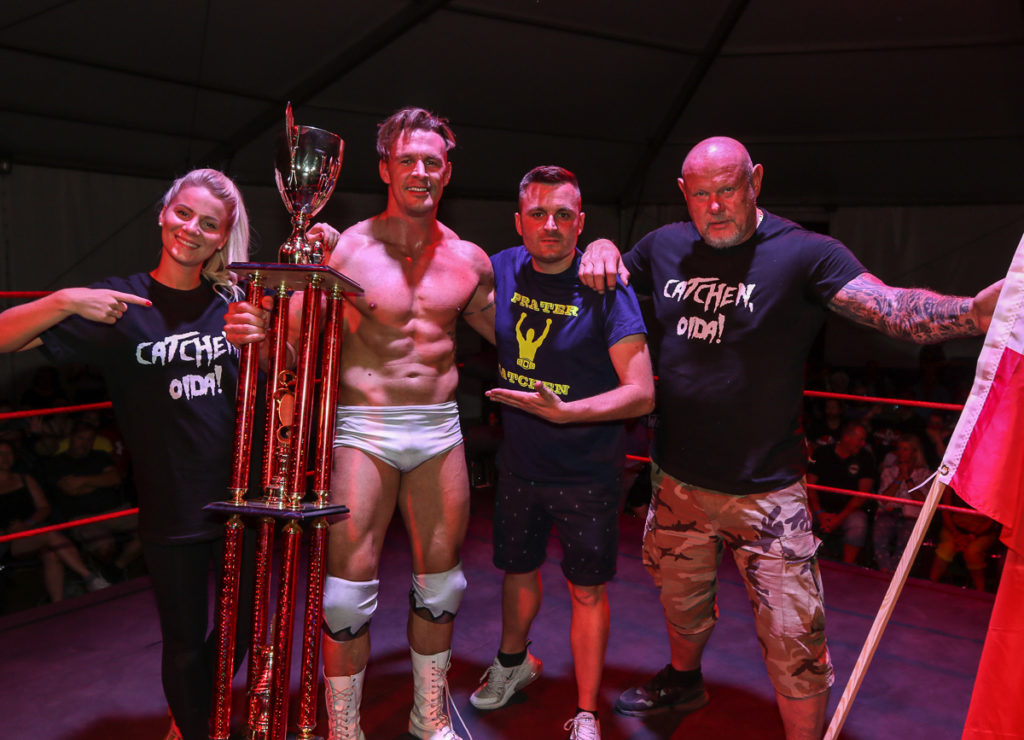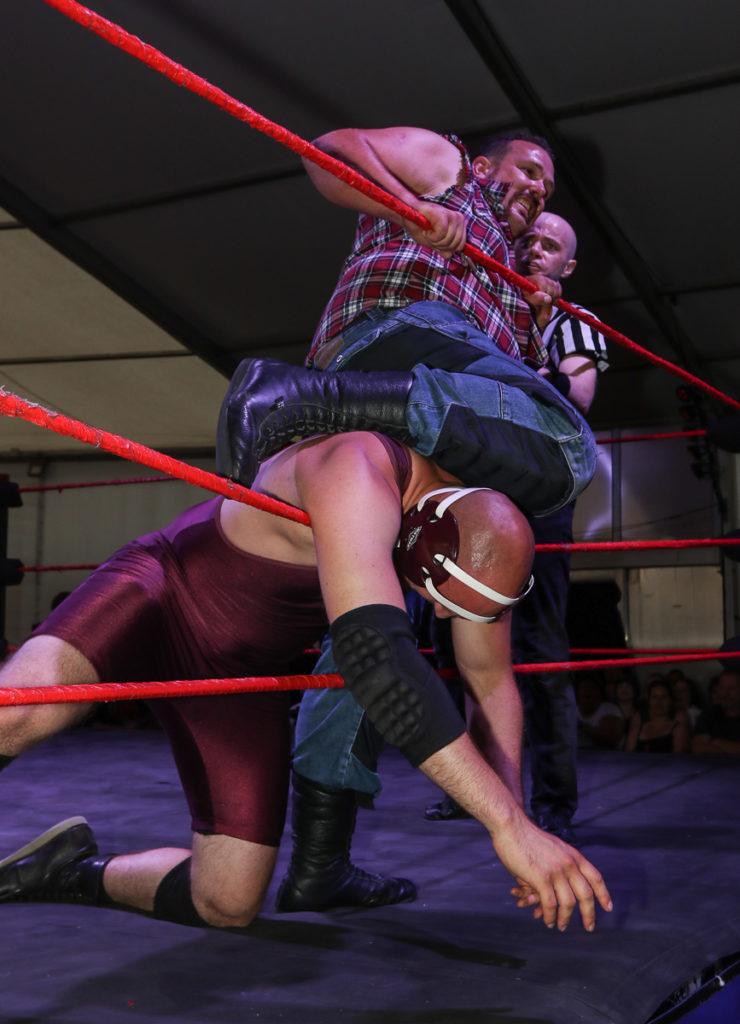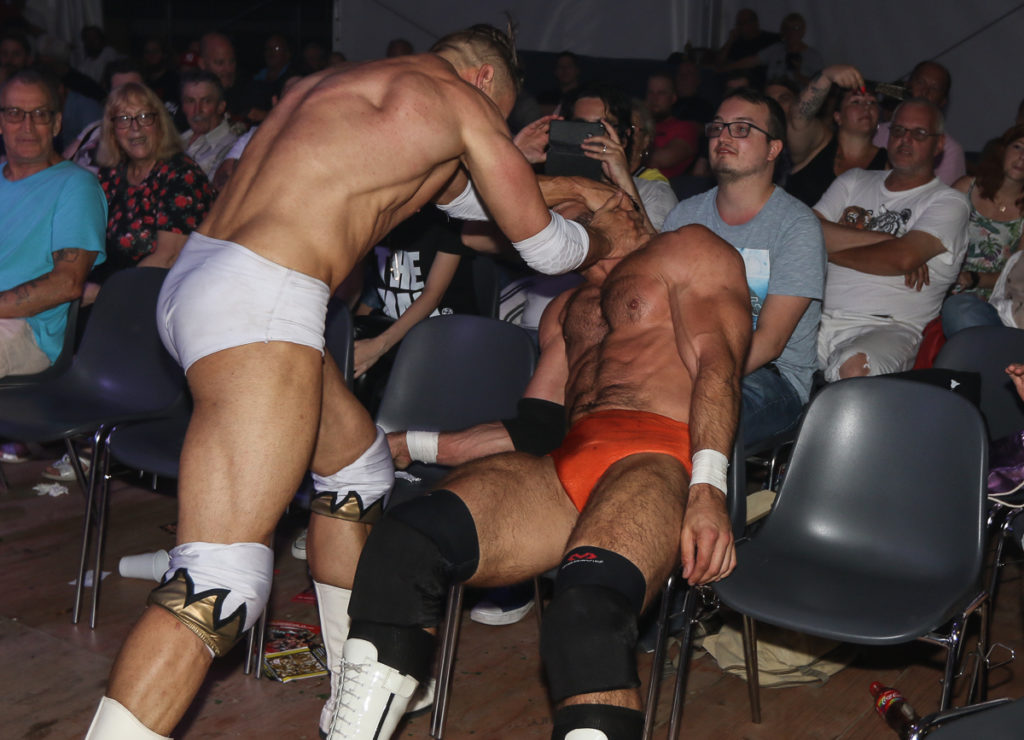 Which fight are you particularly looking forward to?
All of them, of course. But I am most looking forward to two fights. One is the fight of Peter White, two-time winner of the Prater Cup, who is defending the Prater Cup again this year – it is still open who he will fight. And of course I am very happy that Chris Raaber as the Bambikiller, the nine-time heavyweight champion, will meet Iestyn Rees from Wales.
Do you have a personal favorite?
I have three – Michael Kovac, Peter White and Bambikiller.
Who has won the Prater Cup so far?
The first year Demolition Davis from Germany. The following year Peter White and the year after that he was able to defend the title.
What about women? Is there also women's wrestling?
Yes, every now and then we also have women – in the first year, for example, we had Slammerella from Austria.
What are the reasons to go to Pratercatchen? Why should I go as someone who doesn't know wrestling?
I can show you photos of the wrestlers (laughs). You can expect two and a half hours of action with Europe's best wrestlers from different nations. This year it's not only about the Prater Cup, but there will also be a world championship match.
How do the wrestlers prepare for the event?
Train, train, train. They are top athletes. Peter White is fully motivated to defend the Prater Cup for the second time. He has even been taking lessons from Michael Kovac. Currently preparations are full on – especially when you are a Viennese like Peter White fighting at home in Vienna, you naturally want to go out as a winner.
What makes you proud?
It makes me very proud that Heumarkt legend Franz Schuhmann had his last fight in 2019 with us at Pratercatchen at the age of almost 60. He has had a great wrestling career and that was a real highlight for me. It also showed me that wrestling is still alive in Vienna.
Who is Pratercatchen for? For young men, girls or the whole family?
For everyone. Everyone can get excited here. You have a great atmosphere, you have a great audience and you have Europe's best wrestlers. I've made the experience that once you've been there, you definitely want to come back. And thanks to the cooperation with the Prater Association, this year every guest will receive a Prater voucher booklet worth 200 euros as a goodie.
What do you wish for the Prater and Pratercatchen?
I wish that Pratercatchen continues to be as successful as it has been so far and that we can continue to organise it in the coming years.
About the person:
Marcus Vetter was born in Vienna on 3 August 1987 and trained as a restaurant manager after leaving school. In the meantime he is the managing director of Tagada and chairman of the association "Wrestling in Wien".